San Antonio Lawyer For Accidents Caused by Distracted Driving
Today's smartphones offer various exciting features and apps allowing us to communicate with others, create and share memories, and serve as a form of entertainment. However, these functions also cause these devices to become a dangerous distraction that can prove to be deadly if used at the wrong place and time.
Over 18,600 people are seriously injured in accidents caused by distracted drivers and almost 500 people are killed. In 2017, the Texas Legislature passed a statewide texting-while-driving ban making it a misdemeanor offense if a driver is caught using a wireless communication device to read, write, or send electronic messages while driving. Unfortunately, despite laws being passed to decrease the number of accidents that occur because of distracted driving, one in five crashes is still caused by a distracted driver.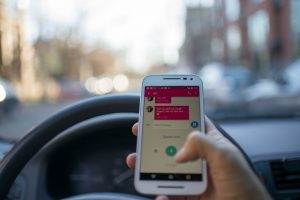 What is Distracted Driving?
Any activity that causes the driver to deviate their attention from the road is considered distracted driving. This includes using your cell phone to call, text, or check social media, eating and drinking, smoking, adjusting the radio or temperature, grooming, using GPS navigation, getting lost in thought, or talking to other passengers in the car. These actions endanger the safety of drivers, passengers, other motorists on the road, and pedestrians.
Injuries Caused by a Distracted Driver
Potential injuries caused by an accident include lacerations, bone fractures, internal injuries, emotional distress, head trauma, spinal injuries, paralysis, or even death. If you or a loved one has been injured in a car accident caused by a distracted driver, contact San Antonio's accident lawyer, Patrick Toscano. Mr. Toscano and his team will obtain police reports of the event, inspect the vehicles involved in the collision and interview witnesses, if necessary, and contact insurance carriers to build your case. We may also subpoena cell phone records, social media activity history, and other evidence necessary to win your case.
REQUEST A FREE CONSULTATION
Toscano Law Firm is ready to discuss your case. No obligation case review. Fill out a form and we will be in touch shortly.