The Million Dollar Advocates Forum is pleased to announce that attorney Patrick James Toscano of San Antonio, TX has been certified as a member.
With almost two decades of representing victims of personal injury cases, Toscano continues to advocate for his clients by giving their case the attention and effort they deserve. In doing so, Patrick J. Toscano has won a million dollar or more settlement. He is the lead trial attorney at Toscano Law Firm in San Antonio, TX.
The Million Dollar Advocates Forum is recognized as one of the most prestigious groups of trial lawyers in the United States. Membership is limited to attorneys who have won million and multi-million dollar verdicts, awards, and settlements. The organization was founded in 1993 and there are approximately 5000 members located throughout the country. Fewer than 1% of U.S. lawyers are members. Forum membership acknowledges excellence in advocacy, and provides members with a national network of experienced colleagues for professional referral and information exchange in major cases. Members must have acted as principal counsel in at least one case in which their client has received a verdict, award, or settlement in the amount of one million dollars or more.
Mr. Toscano is a graduate of Thomas M. Cooley School of Law. He has a civil litigation practice focusing on personal injury and wrongful death, trucking and auto accidents, premises liability, and oilfield cases.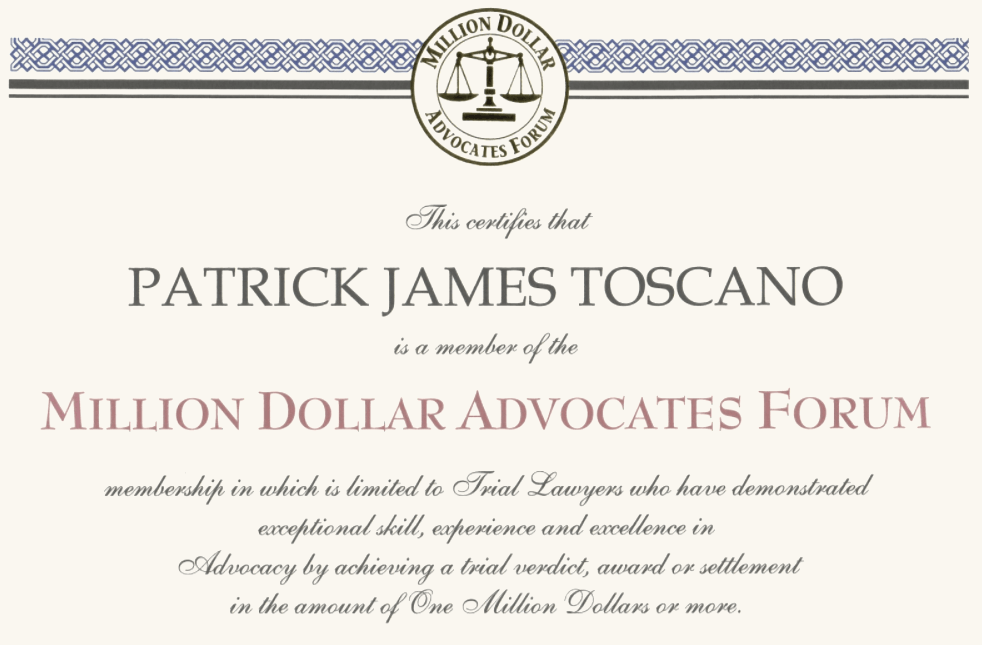 Patrick Toscano's dedication to his clients and years of experience in the courtroom has enabled him to meet the requirements and join the ranks of the Million Dollar Advocates Forum. In joining the distinguished network, his insight into personal injury law will continue to thrive and will also allow others to learn from Toscano.

Interested in having Million Dollar Advocate Forum member, Patrick J. Toscano, represent you in your personal injury case? Contact him today at (210) 951-0696 or fill out a form and we'll be in touch with you shortly.